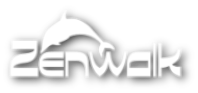 Zenwalk is a GNU/Linux distribution optimized for the i686 instruction set, but backward compatible with i486. It is based on Slackware Linux, and uses Xfce as the default desktop environment.


Origin – Home Page: USA – Zenwalk Linux
Desktop: Xfce (default), and Gnome, KDE, Compiz
Price: Free and Open Source
Reviews: Zenwalk 6.2, the latest release, has been reviewed here. A review of an older version, Zenwalk 6, is available here. You may also want to read the following related posts:
Download: Zenwalk offers a standard, core, Live, and a ZenEdu Live versions for download. The standard version comes with Gnome and Xfce desktops, and all the X applications needed for everyday use. the Core version installs the base system ,without any X applications, enabling anyone to install their own custom desktop. Both Live editions are designed to be run from CD, and offer an easy avenue to test Zenwalk without installing it on a hard disk.
Links to download or buy all versions of Zenwalk are accessible from the projects home page.
Digital Ocean is a VPS/Cloud hosting provider. For just $5 per month, you can get yourself a Cloud server with 512 MB of RAM, 20 GB super-fast SSD, free snapshots, plus backups for a minimal fee. All via a simple graphical interface.

And by signing up with this referral link, you can help support this website.

If you are reading this, your ad could also be occupying this space. Contact us to make it happen.