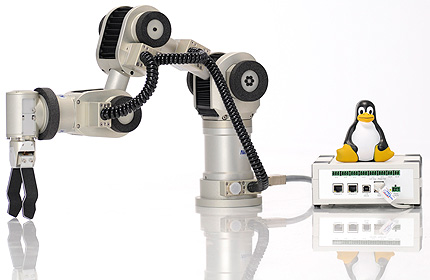 Katana is a product of Neuronics AG, an intelligent robotics company based in Zürich, Switzerland.
The Katana Robotic Arm comes with a powerful embedded controlboard running Linux with Xenomai Hard Real Time extensions and with a strong commitment to openness. This entails possibilities for many fields of application with requirements that could hitherto only be met by developing highly expensive custom engineered robotic systems.
A New Grade Of Openness
Our commitment is to provide a robotics system with no limitations as to its versatility and adaptability. By allowing full access to the embedded Linux controlboard and providing the respective APIs, the robot can be explored, extended and tailored to requirements that could otherwise never find a matching product on the market.
This is absolutely new and unique in industrial grade robotics.
<!-smartads->
Read the full introduction to Katana here
Digital Ocean is a VPS/Cloud hosting provider. For just $5 per month, you can get yourself a Cloud server with 512 MB of RAM, 20 GB super-fast SSD, free snapshots, plus backups for a minimal fee. All via a simple graphical interface.

And by signing up with this referral link, you can help support this website.

If you are reading this, your ad could also be occupying this space. Contact us to make it happen.